i don't know how to write anymore
help!!!
I don't know if it was the tornado warning or just the general state of things, but last week friends in two of my group chats separately used the word "untethered" to describe their emotions and level of connectivity we're feeling toward the plane of existence we physically occupy. I parroted this in therapy and my therapist was like "Yeah, you're not my only client who's saying that" in a way that was definitely supposed to make me feel better but just made me feel like I should find another word to describe the way I'm feeling (I'm feeling fine, just weird in the way that everything feels weird now). But that's how I and at least a handful of friends felt for most of last week: like I was one strong gust of wind from completely losing my mind.
Part of my problem is that it dawned on me about week ago that I don't think I know how to write anymore. I realize that writing is the backbone of the professional job I get paid to do and it is also the main thing I'm even sort of good at doing otherwise, but I don't have any of my own creative ideas anymore. In the process of describing feeling untethered, I explained this new, unwelcome feeling to my therapist too. "Do you find joy in writing?" she asked me. I don't know. Did I ever? Or has trying to articulate myself always felt like the moment right before you realize you're about to throw up? Is writing fun? Is it a thing people like about me that I get validation from? Am I enjoying myself right now as I hide under my duvet plucking at my dumb macbook keyboard, or am I doing this because I like connecting with my subscribers and the people who find their way to my writing here, even though this is the smallest platform I've ever had?
For several years, my job was to have new ideas and to write them every day. When I worked at BI, this meant everything from a quick blog post to a reported story, all delivered with the frenetic pace of an employee working at a digital media company that just sold itself and suddenly had to prove its nearly half-billion dollar sale valuation. When I got to Vanity Fair my editors had to tell me I didn't need to work like someone had a gun pointed at my head, and I could just take my time and write. This was a welcome reprieve, but after a few years it felt increasingly difficult to come up with a new smart, well-written thing to say every day. I think I was just burned out and never knew how to articulate that. I shied away from the pressure of being someone who always had a Take. That I couldn't stick it out as a writer who always has an opinion or a strong thesis about something has always felt like a bit of a personal failure to me, like I couldn't hack it at a major magazine, but now that I can reflect on it, maybe I just didn't want to put myself in a position where I had to take myself so seriously all the time and beg other people to take me seriously too. Maybe it's not the worst thing that I didn't always feel like I had to have something to say publicly on a daily basis. Is it possible I've been burned out since 2015? I've freelanced, but when you're a full-time freelance journalist you work mechanically because you probably need the money from the story you're churning out, and working like that only burned me out more. These past few months have been the first break I've had from having to be creative and on all the time, and I'm scared I've liked my little brain vacation a bit too much and may never return to creative writing.
I open a Google Doc these days and I just stare at it for ten minutes and then close it again. Dozens of blank Untitled Documents populate my Google Drive. If I had a good idea I wouldn't know it, and I wouldn't think about sharing it with anyone else. Someone kinder to me than I am to myself might say I've had a weird couple years and maybe it's fine not to want to write anything after years of only writing things for a public audience that has felt, at times, mercurial and antagonistic. This person would also point out the fact that we're in the middle of a global public health crisis and an economic downturn and they would suggest that perhaps I am not giving myself enough credit for simply making it through the day in spite of things generally being harder and weirder than they usually are. They would probably be right, but this newsletter is the only thing I've really written in like, weeks.
Some things I've been doing in recent weeks that aren't having an identity crisis about being a writer
Reading Drew Magary's new book. Point B is a dystopian teleportation sci-fi love story, and the day I got it in the mail (thanks Daniel!) I read the whole thing. Lots of elements of it felt just real enough to be happening right now in 2020, which I think makes for a compelling sci-fi book (I don't know, I'm not a sci-fi expert).
Reading my friends' writing. My friend Safy published a searing newsletter that's really a critique of white women's frailty that I adored. Kate is singlehandedly running a new news website about influencer culture and she's routinely, like every single day, writing about trends and news before anyone else on the beat. The Emma story I'm really excited about isn't out yet, but she talked to a bunch of teachers last week about school reopenings for a story that you should read.
Eating a lot of tomatoes. It's tomato season baby!!! This week I think I'm going to make a tomato galette with basil and ricotta and the new adorable little heirloom tomatoes I got with my groceries this week. Like a pizza...but fancy.
Buying and wearing a series of oversized dresses. Here's the newest one: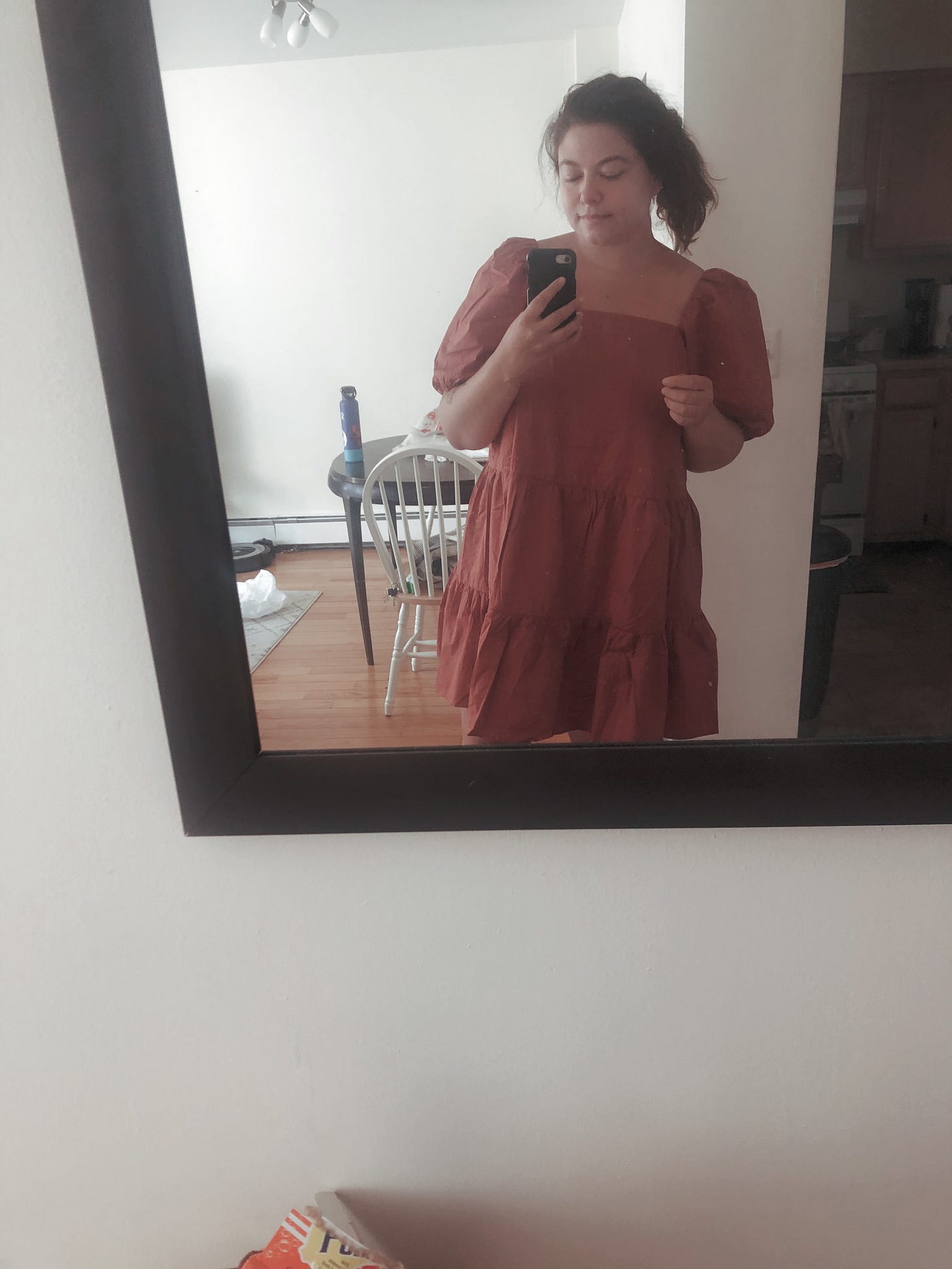 Increasingly I feel like I've taken on the aesthetic trappings of a Victorian woman who spends all day inside her house because she refuses to let her fair skin tan in the sun and suffers from dizzy spells and needs to be revived with smelling salts.
Doing "self-care" (sorry) in the form of booking a dang vacation. I took a few days off next month and I'm driving up to the Finger Lakes to go to a B&B and spend a few days dissociating in a hot tub, and also petting cows on the farm on the property on which the B&B sits. The last time I went on vacation was when Corey, Amanda and I went to Italy two years ago, an unmatched nine-day (?) marathon that mostly consisted of swimming in the Mediterranean and eating arancini. Mary is coming with me for my cow excursion upstate and I'm very glad. Maybe we'll stop by Syracuse on our way there to pay our respects.
I have been trying to lure myself back into writing. I mean, I'm about to send this newsletter out again, so I am forming words again. I asked for advice on Instagram about how to get back into writing and got it ("read!" "just start writing a stream of consciousness!" "take a break!" "go on a writers retreat!" "drink some water!" "it's always going to feel like this!" etc). I'm debating whether a newsletter is really even the right forum for what I'm trying to accomplish here, if maybe I should be writing or creating or whatever instead elsewhere, how I feel about the same one platform being the place where most of the independent writers and journalists end up. (Not necessarily good, I think, about the last part.) I think what I need is Drew Carey picking out ideas written on slips of paper and reading them off to me in my own personal version of Whose Line Is It Anyway, except instead of improv bits the things he's telling me to write are prompts for a story or an essay or, god forbid, a b**k pr*p*sal. In lieu of this, please let me know what you'd like to see me to write about, here or elsewhere. I could use all the help I can get.