birthdays: a retrospective
I was born on August 18, 1992, at something like 2:58 am, a data point I've only come to remember because astrology people want to know this information about you when they do your birth chart. I am not a big astrology person; in the process of writing this newsletter I have Googled "Leo traits," which has pulled up all kinds of information I have never once considered about myself. Here are some things I've learned about Leos in the past seven minutes:
Are Leos good kissers? Leo kisses with intention; they are there to wow you, and wow you they will. Leo is perhaps the best kisser of the zodiac, mainly because being the best at everything is kind of their thing.
Is 2020 good for Leo? The year 2020 will be a good year for Leo natives. In the beginning of the year, new opportunities will welcome you. (Ed. note: lol)
How do you calm down a Leo? Leo calms down when Leo wants to calm down. All you can do is applaud them while they go off and wait until they're done.
What is a Leo's favorite food? If you're a Leo, then you'll love our Unbelievably Loaded Nachos. This dish is baked to perfection with house-made beef or vegetarian chili. For dinner, go with one of our most popular entrées to fulfill your zodiac favorite foods. A Leo can't go wrong with the Chartwell Sirloin or the 12 oz.*
It is with a heavy heart that I must finally admit to myself that unless a COVID vaccine is miraculously developed between now and mid-August, there is simply no chance that I will be allowed to celebrate my birthday in any of the ways I like celebrating my birthday. It's not that I revel in being a big birthday person**; there's just nothing else happening in August, and my birthday always felt like a debaucherous oasis to tide us all over during the stickiest and most humid doldrums, bridging the gap between the Fourth and Labor Day Weekend. I'll figure something out, even if it's just bcc emailing a bunch of people to come hang out in the park for me for a little while.
In what I assume an astrology person would derogatorily say is "true Leo fashion," I have decided to skip right over Cancer season and write a newsletter about birthdays past. Here are some birthdays I remember.
2009: My mom and stepdad had planned to go on a cruise (?) the week of my birthday, so they bought my best friend Andrea and I train tickets so we could come into the city and make a day of it. We walked through the Village, we went to Serendipity for frozen hot chocolate, we may have ended up in Williamsburg at one point—she was always better with figuring out how the subways worked in the days before either of us had a smartphone.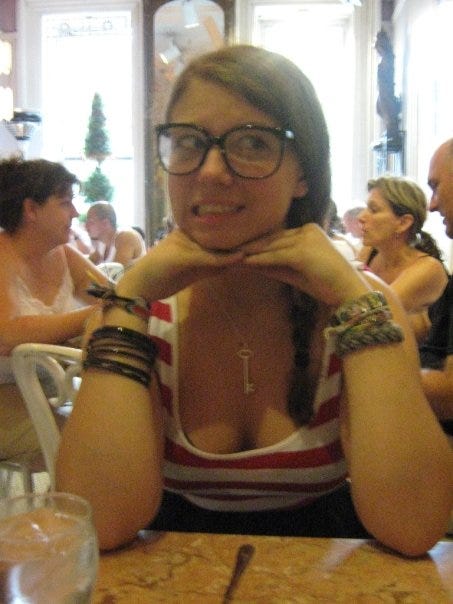 Definitely bought those glasses at Fred Flare. Remember that place?
2010: Days before we all parted ways to go off to college, my best friends kidnapped me and took me on a surprise trip to King of Prussia, a sizable mall in eastern Pennsylvania where one may go to buy a prom dress. It was not a remarkable mall, but it was something to do. My dad did not know that this was a surprise and called me the day before to ask about the daytrip and inadvertently ruined the surprise for me, which upset me greatly for all of ten minutes. Anyway, I think I bought a skirt at Urban Outfitters and then we went to Cheesecake Factory, which is to say it was an excellent 18th birthday.
2012: I was about to leave the country to go study abroad in Madrid for a semester, but first, my college boyfriend and I rented a B&B in rural Vermont for my birthday weekend. There was a hot tub inside the house and also a hot tub outside of it, which I regarded as a bit gauche. We brought with us a 30-rack of PBR and very little else in the way of food, which seemed to greatly amuse the B&B owners. Perhaps related to the PBR and lack of food, I got a migraine at this B&B and threw up in the master bathroom (10/10 nice bathroom, would have a debilitating migraine there again).
2014: I was interning at BI, and my friend Emmie, the first friend I made in college who had ended up with me at BI after Syracuse, bought me a half-dozen of those little Sprinkles cupcakes and put them on my desk before I got to the office. I was also learning about the little luxuries of New York, like Drybar, where I went for the first time before I got to the office that day. After work I went home—this was my first summer in New York, and I was living in the Rockaways with my mom's family—and I went to Rockaway Taco and then ate my fish tacos on the beach, subsequently ruining my blowout. This was pre-boardwalk, post-Sandy, so there was nowhere to sit really, you just kind of plopped yourself down on the sand.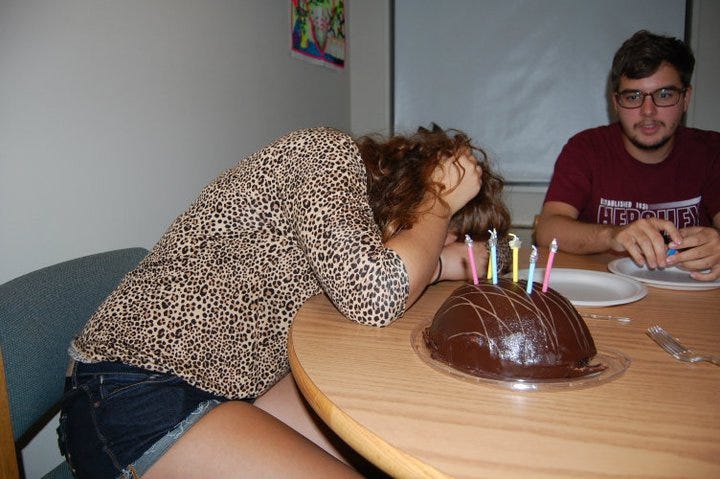 This picture is from a 2011 birthday, taken in my friend Andrea's dorm at Loyola Maryland. That she is now married to the man in this picture is testament to his ability to put up with our antics at 19.
2015: The main things you need to know about this birthday are the following: Emmie and I ate an insufficient amount of food after work at the Union Square Taco Bell; I impulse-bought a party dress from the Express on Fifth Avenue; we went downtown to pregame on a very nice rooftop at a FiDi apartment where our friend Ian was dogsitting a very cute golden doodle; Emmie and I had the very smart idea to take an empty beer bottle and fill it with Fireball for our commute to the second location; and then eventually a whole group of us—Ian, Emmie, me, my roommate Dennis, and Max, this guy I had invited from work because he seemed new and like he didn't know anyone at the company yet—piled into an Uber and went over to my favorite karaoke bar in Chinatown, Upstairs bar, which is quite literally on the second floor of a building at the end of Canal Street. There was a competing birthday party at the bar but we neatly outflanked them, which is an important detail because birthday parties are all about competition.
2016: I somehow convinced a couple dozen friends to come to a bar in Astoria for my birthday. I also Irish exited my own party before I could do any karaoke.
2017: I went to Five Leaves with Max and got brunch, which felt luxurious on a Friday even though it threatened to rain the whole time. I was still living in Astoria but instead of making everyone come back to Queens for another birthday party, I just had a party at Diamond Reef instead, back when it was new, back when you could still do that and not be one of five optimist idiots thinking you could occupy all the outdoor patio tables at Diamond Reef on a Friday night.
2018: Picked the location for my party based on the bar's photobooth. We ran the bar out of Miller High Life.
2019: A Twitter friend of mine owns a wine bar in Clinton Hill (which I have to plug now, it's still open and they do delivery, also if you happen to go on a date here during the pandemic and it starts to rain they might nicely accommodate you briefly in their open-air space inside, hypothetically) so I asked if we could reserve "a few tables for a nice little party." Autumn not only did that but also gave me a bottle of my favorite wine and then 60 people showed up to party from such distant places as "Long Island City" and "the Upper West Side." Kate made me a cake based on a Twitter meme. Eventually we went to Cmon Everybody which we quickly left because there was a Zionist (?) dance party happening so we went to the Holler on Franklin and then it was 3 am and I had to go to sleep because the next morning Erin and I had plans to go out to the Rockaways. Which we DID, despite our hangovers and lack of sleep, because there is nothing I love more than a morning beach when it's just you and maybe some surfers and the seagulls that will literally rip out your eyeballs for a bite of your breakfast sandwich. That night I booked a room for myself at the Ace, where I slept after a dinner at Hart's with Emma, Kate and Max, punctuated by an extra appetizer from the kitchen and some kind of olive oil cake for dessert.
*The Google predictive answer box began to go a bit off the rails at the end there, picking up copy from a menu from Garry's Grill in Severna Park, Maryland.
**This is a lie. Typical Leo!