Happy Emma day
Today is my friend Emma's birthday. Although we have only been friends for a few years, it feels like a much longer time, probably due to the life events we've each endured in that period, or just the way the passage of time works. Here are some Emma stories and facts I like to share:
The first time I met Emma, she had just moved back here and was at a gathering (I think this was supposed to be a picnic but it got rained out so we were just eating dips inside, in the air conditioning, which is my preferred state anyway) at Kate's Bushwick apartment and I was like who is this loud girl talking about totaling her car in Los Angeles and why is she here??? I am still searching for answers.

Purely in terms of money/time spent sitting at the bar, Emma is the mayor of MeMe's Diner in Prospect Heights.

At some point this year Emma started referring to things (new lingerie; a cocktail; a Zoom table read of the Girls pilot) as "gorgeous" or the more elegant-sounding "gorgine" and both Kate and I have adopted this descriptor into our vocabulary by osmosis.

Emma brought me as her "plus one" to a press screening of the 2019 live-action movie CATS and we got these gorgine cat ears to wear: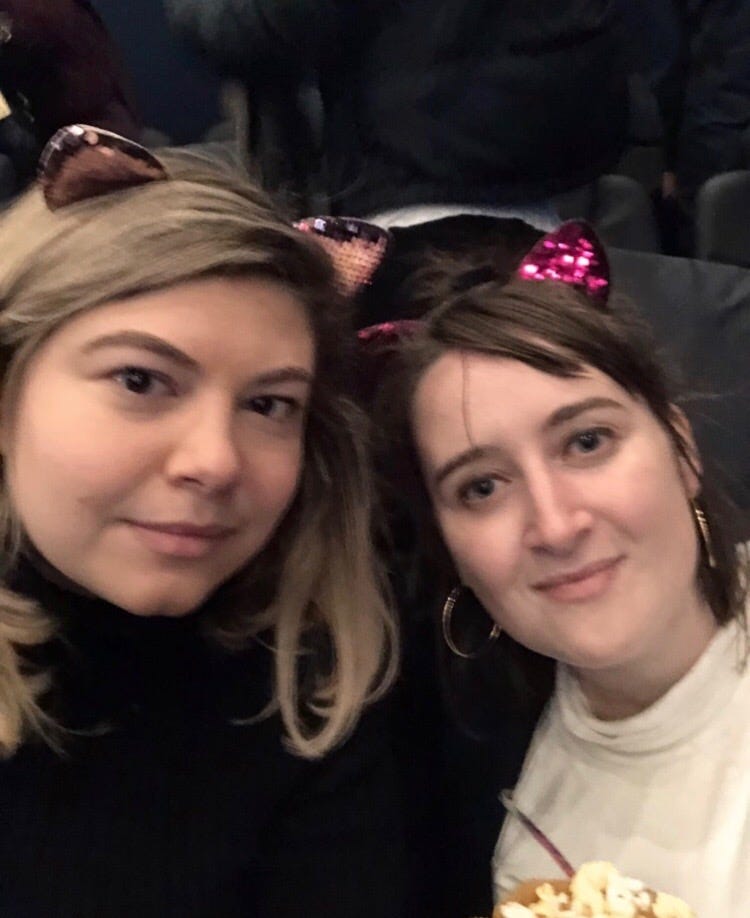 Emma bought passes to Spa Castle for me and Kate for Christmas last year and at first I was like "wow! She didn't have to do this" and when we actually got to Spa Castle in January for a much-needed day of rest and relaxation I learned that she used her work wellness reimbursement to buy us the passes, which does not make them any less valuable, it only reinforces that Emma is extremely thoughtful and resourceful.

Last summer when California Pizza Kitchen (correctly) identified me as a Succession (like the HBO series) influencer, Emma hosted a Succession season 2 episode 1 watch party at her apartment and let CPK come and cater in her living room. We were provided with, and ate, an ungodly amount of Cajun chicken linguine (just the way Greg likes it).

I cannot begin to count the number of texts, phone calls, and FaceTimes I've woken up the next morning having missed from Emma at 2:30 am DEMANDING that I join her at a crowded dance-y bar in Bushwick, and even though 9/10 times I would have refused to go anyway I MISS them the way I miss the other parts of normal life.

When I began SOBBING LOUDLY during a screening of Little Women (2019) at Alamo (this was, yes, my third viewing of the movie in theaters) Emma leaned over and stage-whispered "you little bitch!!!" at me to get me to start laughing instead.

I came to visit Emma at One World Trade Center one day when I was still freelancing. She toured me around the entire Vogue floor like a fancy little show pony and then brought me over to the free table. She picked up an eyeliner, extended it to me like an olive branch, and after a beat said "this would look great on me." I let her have it because ultimately she was right, but I did take a bottle of blonde shampoo with me on my way out.

At different times, both Emma and I have dogsat for Jaz and Gabe's anxious dog, Moose, and both of us have separately cried while trying to convince Moose to come out from under the bed and go in his crate because we were running late for job interviews and really needed to go but couldn't leave him there under the bed.
Although I know she would vastly prefer to be dancing near every sweaty stranger at Mood Ring today, we will go sit outside a wine bar with Kate and consume several glasses of wine per person after work instead, and that will be nice. Happy birthday Emma!